13 Crazy and Real Finds Found On A Hiking Trail
Throughout time, explorers have run into some pretty awe-full and awful things. The discarded water bottle, the random glove, the decomposing animal carcass … Those are entirely yawn-worthy compared to the list below.
We filed through the archives to bring you the headlines from 13 discoveries that rocked the hiking world. And who knows, maybe you'll unearth something spectacular the next time you hit the trail.
1. Skull
Headline: Hikers Find Human Skull
Date: Dec. 3, 1957
Alas, poor Yorick! Yorick? OK, it might not be the head of Hamlet's beloved court jester. Actually, coming across a human skull is more commonplace than you'd think. Although strange and creepy, it turns out that the forest is a choice burial ground.
2. 6,500-Year-Old Pendant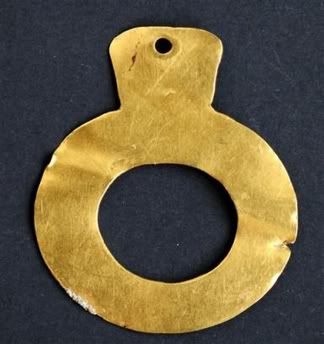 Headline: Hiker Finds 6,500-Year-Old Pendant in Greece
Date: Feb. 16, 2006
It's kind of like that interview question: If you found a wallet on the ground, would you turn it in or keep it? Except this wasn't a wallet—it was a prehistoric necklace made out of pure and delicious gold. The kind of thing smugglers snatch up and sell for millions. Yet, the woman who found it asked to not be rewarded nor named. Such altruism.
3. Live Grenade
Headline: Santa Clarita / Antelope Valley Hikers Find Live Grenade in Desert Danger: Bomb squad safely detonates the military device, the latest discovery of explosives in the area.
Date: Oct. 11, 1994
Let's just say it's not a good hike when the bomb squad is called in. The article's abstract says a number of explosives were found in desert areas, even killing a woman and injuring her son in one case. Additionally, hikers also have had run-ins with Air Force bombs as well as other explosives.
4. Plane Wreckage
Headline: Hikers Find Wrecked Plane, Three Victims
Date: Dec. 10, 1962
The hikers? A school teacher and three students. They were wondering around the Modesto area on a Saturday and bumped right into a destroyed private plane. And just 20 feet away? Three dead bodies. In 1969 another unrelated crash site was discovered by a man hiking with his two kids.
5. Mummy
Headline: Hikers Find Mummy Preserved in Glacier
Date: Sept. 26, 1991
It mimics the opening scenes from Encino Man, except this mummified man did not come back to life as Pauly Shore, which most of us can agree is a good thing. EDIT: Actually it was Brendan Fraser who came back to life in Encino Man. Pauly Shore just happens to be the only person we remember from that movie.
6. Gold
Headline: 3 Hikers Find Gold in Angeles Forest
Date: Jan. 12, 1980
Today the term gold digger elicits a much different image than it did in the 19th century. However, these hikers weren't even looking for buried treasures when they discovered four golden nuggets. And to think, some would be infinitely pleased to just locate a few chicken nuggets, let alone something of real value, on a hike.
7. Giant Mushroom
Headline: Hikers Find Huge Mushroom
Date: Oct. 8, 1962
Unfortunately no Smurfs were uncovered along with the oversized fungus. Also unfortunate: There's no abstract in which we could glean the actual size of the mushroom. Huge sounds rather significant, so we'll continue to think big.
8. Dinosaur Tracks
Headline: Hikers Find Dinosaur Tracks
Date: July 28, 1940
And you thought identifying grizzly prints were freaky. Imagine the panic attack that would overcome your body after realizing that those dinosaur tracks were real and fresh.
9. Dead Bodies
Headline: Hiker finds corpse south of Hidden Valley
Date: July 28, 1940
Hands down the most disturbing find. Dead animals are bad enough, but one of your fellow humans left to disintegrate in the open air? It's unsettling on so many levels. Even more upsetting, this type of find (next to human bones) is more common than the others, or at least covered by the media more often than not.
10. Old Ship Remains
Headline: Montauk hikers find remains of old ship
Date: March 25, 1999
Like something pulled right from a scene in The Goonies, a trail preservation society walked right into a historic treasure chest. While the treasures hold more educational than actual value, the group was thrilled by the find. Historians noted that the ship was from the late 18th/early 19th century.
11. Marijuana plants
Headline: Hikers find marijuana plants at site in Pike National Forest
Date: Aug. 10, 2003
Imagine strolling into a garden of hundreds of illegal plants. If that doesn't get your heart racing, what will?
12. Lost Boy
Headline: Hikers Find Lost Boy, 14
Date: Aug. 19, 1962
No, no, not those Lost Boys. A party trekking in Washington came across a 14-year-old boy who had been wandering the wilderness for two days after his dad and brother died in a boating accident. Talk about a life-saving discovery.
13. Ancient City

Headline: Hikers Find Old City in Mountains
Date: Sept. 15, 1930
Nobody has unearthed Atlantis yet, but that doesn't mean you still can't spot your very own ancient city during a weekend adventure. Granted, the location of a never-seen-before metropolis will have to be pretty remote. This particular ancient city discovery was made by a hiking club in Mexico. Maybe the next one will be in your backyard? If you live in a remote region of Antarctica, that is.
Source: HikingBoots.com